Indiana is one of a dwindling number of states with a total prohibition of both medicinal and recreational use of cannabis. It's time to change that.
Every year in the state legislature, lawmakers introduce bills to reform our state's cannabis laws. However, these bills rarely receive a committee hearing, let alone make it out of the Statehouse. This year, however, HB 1297 received a committee hearing and would have decriminalized marijuana possession in Indiana. The ACLU of Indiana testified in support of this bill, as it would have been a step in the right direction for our state to start undoing the harms that the war on drugs has inflicted on communities of color for decades.
The Hoosier State is falling behind our neighbors and the country at large on this issue. States are moving to decriminalize and legalize recreational cannabis possession and usage, including in neighboring Illinois and Michigan. Ohio and Kentucky have also legalized cannabis for medicinal purposes.
Indiana's cannabis laws are draconian. A first-time conviction of simple cannabis possession is punishable by up to 180 days in jail and a $1,000 fine. Possession of less than 30 grams of cannabis, with a prior drug conviction, carries a penalty of up to one year of incarceration and a $5,000 fine.

Hoosiers want to see a change in our state. A 2022 poll showed that a vast majority of Hoosiers, 85%, support legalizing cannabis in some form. Additionally, when asked if people should serve jail time for possessing small amounts of marijuana, a 2018 poll showed that a mere 16% of Hoosiers said yes.

But it's not enough to just legalize marijuana. Elected officials in Indiana must do so with the specific goal of undoing the harms that decades of war on drugs policies have inflicted on communities of color.

Black people and white people use cannabis at similar rates, yet Black Hoosiers are 3.5 times more likely to be arrested for cannabis possession than white Hoosiers.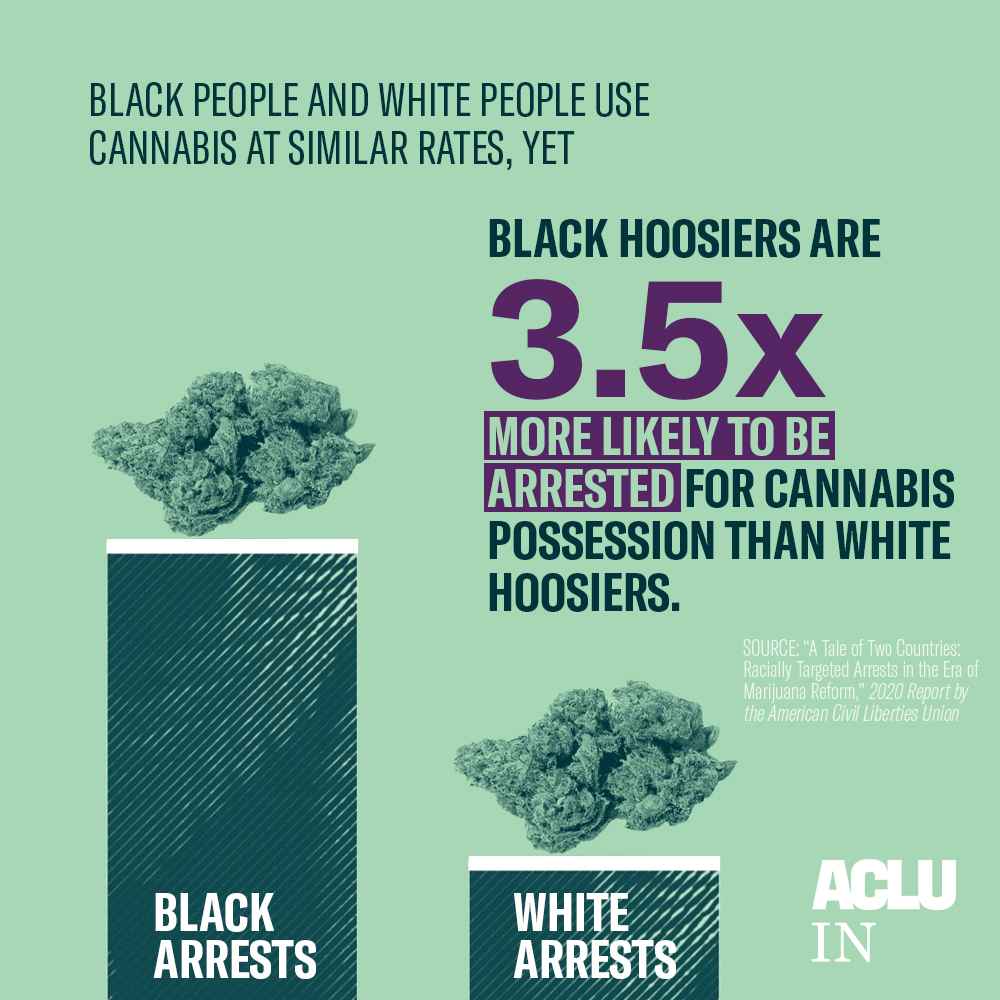 These are more than just numbers. The personal impact of incarceration can be devastating, carrying long-lasting implications, including lifelong criminal convictions, the loss of jobs, housing, financial aid eligibility, child custody, and immigration status. It is clear that the war on drugs is a war on people.
Given these disparate impacts, the movement to legalize marijuana must be centered in racial equity. What does that look like?
•    Legalizing marijuana use and possession.
•    Expunging all cannabis convictions.
•    Forgiving outstanding debts for marijuana fines and fees.
•    Eliminating collateral consequences that result from cannabis arrests or convictions.
•    Investing in communities most harmed by the war on drugs.

Prosecutors must also play a role in ending racially-biased marijuana enforcement. 

Punitive drug policies have disproportionately criminalized Black and Brown Hoosiers for decades, fueling our mass incarceration crisis. In fact, marijuana possession arrests make up 45% of all drug arrests in Indiana.

A different approach is possible. Marion County Prosecutor Ryan Mears in 2019 took a step in the right direction by deciding not to prosecute Marion County residents of certain marijuana possession offenses.

Police reform is another key component in ending racially-biased marijuana enforcement.

Because racial profiling among law enforcement plays a major role in perpetuating disparities in cannabis-related arrests, we must also include sweeping police reforms in legalization efforts. This includes:
•    Ending over-policing in communities of color.
•    Divesting from law enforcement.
•    Stopping police enforcement of marijuana possession.
•    Eliminating consent searches.
It's time to legalize cannabis in Indiana and ensure that racial justice is centered in those efforts.
---
*Note: This is an updated version of a blog post originally posted on April 20, 2022.